Enterprise Data Integration and Aggregation
Enterprise Application Integration and Aggregation (EAIA) refer to plans, methods, and tools aimed at modernizing, consolidating and coordinating the computer applications in an enterprise. Typically, an organization has existing legacy applications and databases and wants to continue to use them while adding or migrating to a new set of applications that exploit the Internet, e-commerce, extranet, and other new technologies.
The purpose of EAIA is to leverage existing company assets (skills, technologies, application programs, data, etc.) while making them available and usable within the context of the migration to new technology.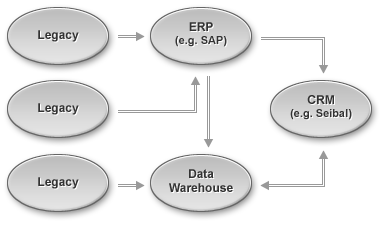 EAIA supports the development of a new view of your enterprise's business and applications that allow existing applications fit into the new view. They also facilitate efficient reuse what already exists while adding new applications and data.
EAIA encompasses methodologies such as object-oriented programming, distributed, cross-platform program communication using message brokers with Common Object Request Broker Architecture (CORBA) and COM+. EAIA also eases the modification of enterprise resource planning to fit new objectives, company-wide content, data distribution, message queuing middleware and data standards implemented with the extensible markup language (XML).
With the combined experience of over 150 data warehousing projects delivered, 5x Technology has a wealth of experience in data integration. This expertise, combined with new technologies, makes 5x Technology the essential partner for mitigating the risk of data integration projects