Data Warehouse / Data Mart Design
Data warehousing is the foundation for business intelligence; it exists to provide business intelligence applications with fast access to trusted business data. Collected from the organization's operational computer systems it is cleaned, consolidated and organized solely for the purpose of business intelligence. It is thus inextricably linked with data integration, business intelligence and information delivery.
Data warehousing is a specialized area where technologies and best-practices continue to evolve. True specialists are required to avoid expensive mistakes. Data warehouse practice is now far from a new discipline. While experience and techniques have improved since the first data warehouse attempts, many aspects of good practice remain largely the same. A standard relational database still used to store data. Data extraction from the source system, loading, cleaning, reconciliation, consolidation, management and aggregation are still handled by a programming language interface.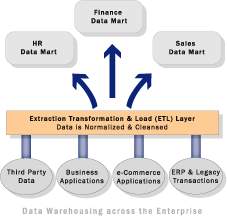 Whether you plan to implement an enterprise-level data warehouse, departmental data mart or an operational data store, 5x Technology can tailor a solution to meet and exceed your requirements. Our architecture and implementation teams have consistently delivered on or ahead of schedule and have met or exceeded our client's requirements.
Our professionals have extensive practical experience in developing, managing, and performance tuning large and medium size databases in DB2 (all platforms), Oracle (all platforms), SQL Server, Sybase, Informix, Terra Data, and Microsoft ACCESS.
With extensive knowledge and experience in UNIX, Windows and Mainframe platforms, our specialists have developed back-end and front-end applications while leveraging our industry's most current technologies to enhance and optimize the operational and business demands of your enterprise systems and organizations.
In addition, 5x Technology can integrate data from one or multiple relational and hierarchical database platforms into DB2, Oracle, and SQL Server databases.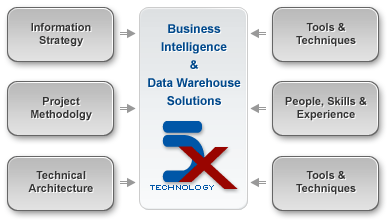 Our development principles emphasize:
Alignment with the overall business strategy
Blueprint definition and refinement to meet business needs today and tomorrow
Incremental subsystem development with measurable business benefit delivery at each step
Fast deployment and early ROI