Business Planning / Forecasting
The demand for financial information continues to increase, applying greater pressure on financial professionals to deliver information to stakeholders throughout an organization faster and more efficiently than ever before. 5x Technology enables these professionals to manage the core financial processes- budgeting, planning, consolidation, forecasting, and reporting- all within one solution.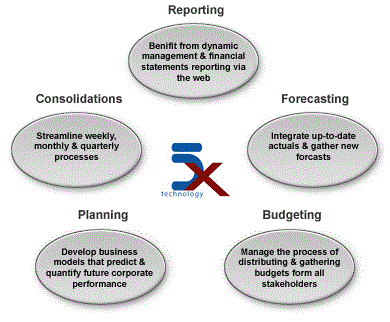 In the past, many companies used different software applications to manage each of these processes, such as the budgeting process. Today, companies are gaining competitive advantage by deploying one solution for all processes. One solution means shared data, common definitions, better security, and increased ease of use. Cognos Finance manages all of your data- history, actual, budgets, and forecasts from any source. It lets you map data from multiple sources such as General Ledgers, Enterprise Resource Planning (ERP) systems, Human Resource (HR) systems, and use a master set of accounts, resulting in a single financial view of your organization. In addition to profitability, the market value of a company is determined, to a great extent, by the execution of its business model. Businesses must streamline their process of planning and forecasting by developing a flexible and collaborative enterprise methodology.
5x Technology provides its customers with an enterprise platform that enables their employees and managers to participate in a collaborative budgeting and forecast process. The platform allows organizations to respond immediately to changes in the market. It allows collaborative participation within the organization and provides comprehensive reporting to all levels of managers, through a web browser.
5x Technology works with each of our customers to achieve a clear understanding of the organization's Key Performance Indicators (KPIs) and business metrics, as both are essential in modeling your business. Once the models have been built, the computer infrastructure is re-engineered to provide the managers with data so that 'actual' can be evaluated and appropriate plans and forecasts developed. Contact us to find out how 5x Technology can provide you with new and exciting solutions.